The Swedish Textile Service Association celebrating 75 years
The Swedish Textile Service Association was founded in 1940, the Second World War collapsed outside Sweden's borders and the smell of chemicals revealed every wash at several blocks distance. History offers a large number of events, rules, laws, changes, new materials and customers for us in the industry.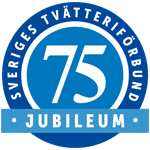 people behind the covenant
In conjunction with our anniversary we offer an article series in 8 parts - all with anchoring in the history of our union. See also our anniversary brochure.
- by Ulf Silfverström - Sustainable enterprise means constantly working to reduce the environmental impact. For a long time, the laundry industry has been warm to the heart and contributed to a clean image. "The industry has a responsibility," says Fredrik Lagerkvist, to inform ...



Therefore I leave my laundry
It is becoming more and more common in our stressful everyday environment that we leave our clothes for washing. And preferably to a store that is quality authorized and T-marked. We stopped a number of people on the run who were just about to hand in their laundry or just picked it up. And of course asked the question Why? And how often?
Karin Eriksson, lawyer
- I have found a really good dry cleaner and also nearby where I live. I pay for service, quality and save time. I simply avoid problems. I usually hand in garments that are simply to be dry-cleaned according to the washing instructions. I submit shirts every other week like that…
Anders Folker, dental technician
- I hand in what I can not wash myself and can be destroyed. Lambswool sweaters and such. For me, dry cleaning is something completely natural and giving away laundry is something I had with me from home as a child. Dry cleaning I have used myself since I started earning my own money and I intend to continue with that. Especially when it is close to work.
Björn Julius, retired marine engineer
- Some clothes that I have and use are simply not suitable for the washing machine at home. That is why I submit, for example, my suits, my uniforms and my evening dress. It may well happen sometime in the quarter. But I can handle shirts and such myself. Shirts and such I can handle myself. Dry cleaning is a good and valuable service for me.
Lars Wallin, Director
- A good dry cleaning is one that is close to where I live, that I feel safe with and that has quality. We usually hand in jackets, suits and blouses for example. I simply think that it is comfortable and that it makes everyday life easier. We hand in laundry continuously when needed.
Henrik Dufeu, funeral contractor
- I hand in dry cleaning as it gives me good service and I don't have to think about it myself. I submit both work clothes and private garments. It can be both jacket pants and coats. It gets about the same twice a month. For me it has become both a habit and a tradition.
Knall Bygdens large laundry recipe
A recipe for heavy washing for that two generations ago from Knallebygden.
Make up joints in the backyard to heat rainwater in the pot.
Adjust the tubs so that the smoke does not get into your eyes if it blows.
Caraway breaks a whole bar in boiling water.
Separate the laundry into three piles: A high white, a high stripe white and a high towel and rags.
Stir in flour in cold water to an even batter and thin out with boiling water to set.
Rub the stains on the washboard. Rub hard. Boil. Rub the strip washer but do not boil - just rinse and dash.
Take the whitewash out of the pot with a broomstick, rinse and dash.
Spread out the kitchen towels on the grass.
Hang old rags on the fence.
Pour the rinsing water on the discount.
Scrub the stiffness with the warm water.
Put on a new dress. To smooth the t hair with the side combs. Boil a cup of coffee. Sit a beat in the rocking chair to villa to think about how good you have it.